Poliermaschine
The polishing process must be in accordance with the material to polish, and with the desired result. Vast majority, the samples to polish are heterogeneous and the differences in hardness of their parts are significant.
To give satisfying results fr all types of request, BROTLAB, in collaboration with important university laboratories, has developed a multi-purpose polishing machine for thin sections or polished sections.
This machine allows a very high quality polishing while maintaining perfect flatness using self-lubricated diamond compounds installed on a synthetic plate.
This first process is the most efficient, but it requires a polishing time longer than a traditional process.
For a faster result while maintaining a good quality, it is possible to use polishing sheets with the same compound or diamond gel.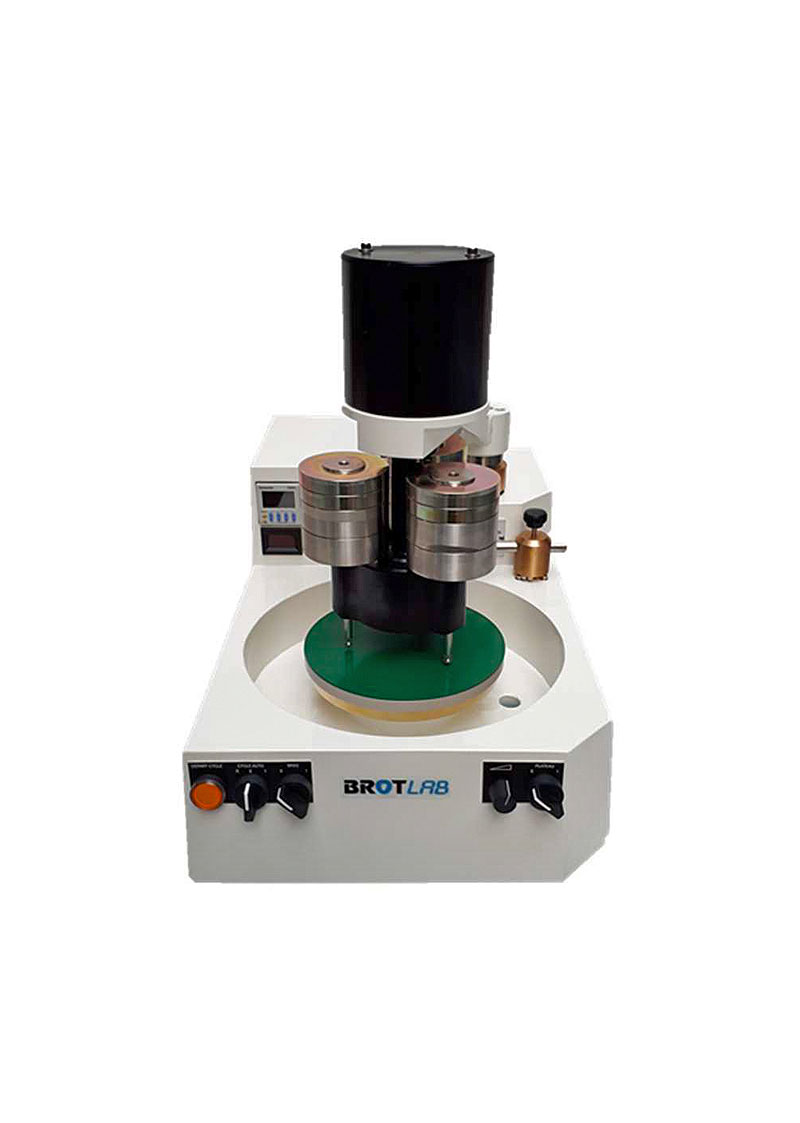 Polishing machine with variable speed from 25 to 200 Rpm, high torque at low speed without vibrations
Display for Rpm of the plate and effective torque
Timer for polishing time 1 to 60 minutes
Sample-holder for 3 samples (or 5 in option) ensuring 3 regular motions, to the preparation, without inversion jerk or push-pull
Standard Equipment
The polishing machine and the motorized sample-holders arm
1 set of 3 or de 5 sample-holders for thin sections or polished sections (size on request):
– Thin sections : 27X46 – 28X48 – 30X45 – 50X50
– Polished sections: diam : 25 – 25.4 – 30 – 32 – 38 – 40 mm
– Other on request
1 set of 6 weights of 1 Kg and of 6 weights of 0.5 Kg for the version "3 sample-holders"
1 set of 10 weights of 0.5 Kg and of 10 weights of 0.25 Kg for the version "5 sample-holders"
1 anti-adhesive plate Ø200 mm for polishing sheets
1 kit of 50 polishing textiles Ø200 mm
1 kit of 3 (100 gr/each) of special diamond gel : 1 – 3 – 6 μm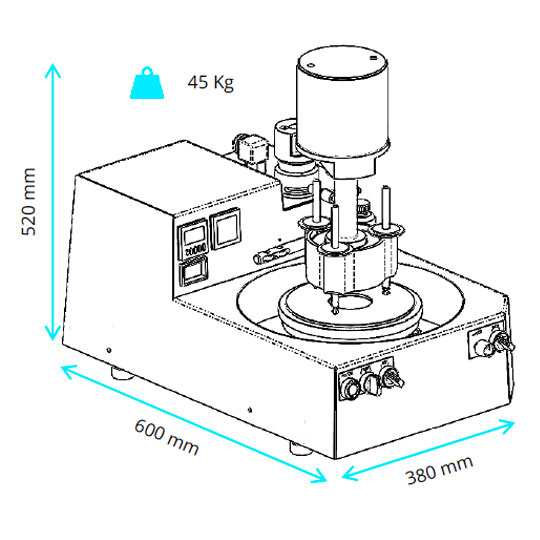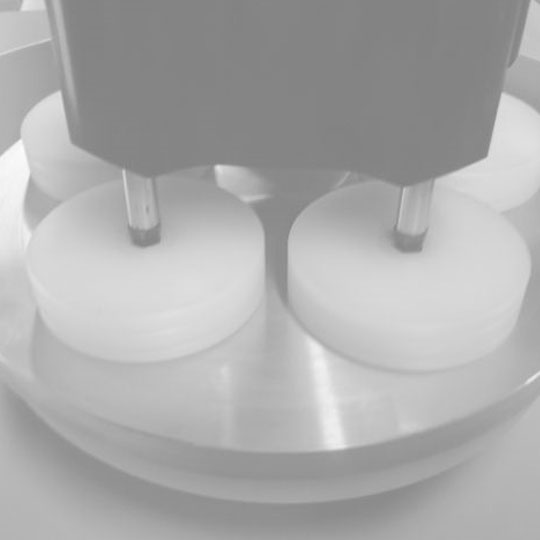 Options
Super finishing polishing:
1 special synthetic polishing plate Ø200 mm
1 device for dressing of the plates with diamond grinding wheel / arm / thread ruler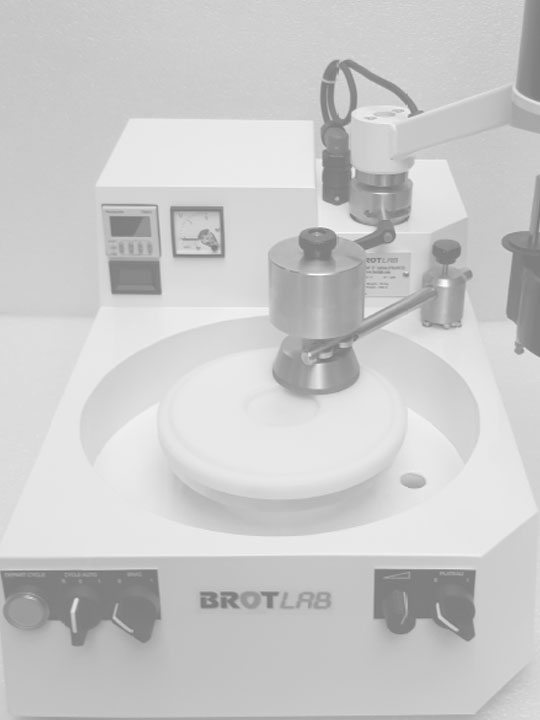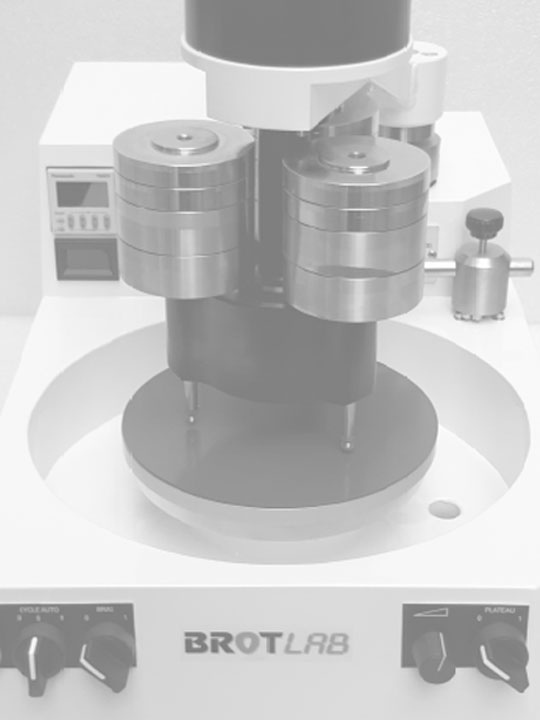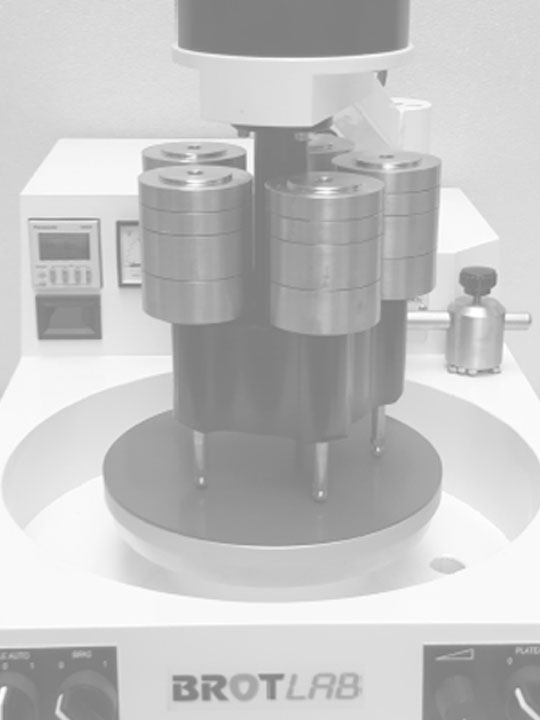 Wir sind für Sie da
Der persönliche Kontakt ist für uns besonders wichtig. Unsere Produkte sind so individuell wie Ihre Anforderungen. Gerne beantworten wir Ihre Fragen und freuen uns auf den Kontakt:
SCAN-DIA GmbH . Lütkenheider Straße 11 . 58099 Hagen
Telefon: +49 23 31 624 69-0